SALIDAS INDIVIDUALES Y DE GRUPO
(max 6 personas) con y sin coaching/asesoramiento a partir de media jornada hasta más días
1-1 and small group tours
(max 6 pax) with/without coaching starting from half a day to multi day
Estás solo y no tienes experiencia, sales de vez en cuando con unos amigos pero no sabéis bién por donde ir, quieres disfrutar de unas horas o días en moto encantado de la vida, descubriendo sitios increibles para todos niveles, sin pensar a navegar, montar trazas y acabar liandola… si te reconoces en unas de estas afirmaciones, entonces estás en el sitio correcto! Además, eligendo la opción de coaching, las rutas serán de entrenamiento y tu guía también será tu instructor corrigiendo malos acostumbres y haciendo que vuelvas a casa mas preparado de cuando has salido..con unos videos a demonstración!
You are alone with no experience, sometimes you go for a ride with some buddies but you don't actually know very well where to go, you want to enjoy some hours or days with your bike breating life, exploring amazing locations for every skill level, without having to think about navigation, tracks editing and maybe ending up with problems.. If you identify yourself in one of these images, then you are in the perfect spot! More over, choosing the coaching option, the tours will convert into training ones and your guide will be your instructor as well fixing bad habits and managing the experience to let you come back home more skilled than when you left.. with some videos too as a reference!
CURSOS BASICOS DE OFF-ROAD
Aprenderás a moverte encima de la motocicleta, a buscar el equilibrio y la estabilidad en superficies inestables quitandote tus miedos, errores y inseguridades off-road a través de ejercicios de equilibrio estático y dinámico. Sobre todo, entenderás el porqué de todo para no memorizar cuanto comprender. También aprenderás a solucionar en seguridad los problemas comunes que pueden ocurrir en tus futuras aventuras pero no solo en un campo, cuanto en un auténtico escenario en el que podremos practicar las habilidades adquiridas en un entorno real saliendo de ruta en la segunda parte del día. No faltará de hablar de accesorios, herramientas y equipajes recomendados.
You will learn to move over your bike, searching for balance and stability over unstable surfaces getting rid of your fears, mistakes and insecurities off-road through static and dynamic balance exercises. Above all, you will understand why.. to not memorize but comprehend. More over, you will learn how to safely fix and solve most common problems you can get trapped with in your future adventures and not only in a training field, but even in an authentic scenary where we will practice the acquired skills in a real environment going out for a ride in the second part of the day. A talk about accessories, tools and equipment will not be missed.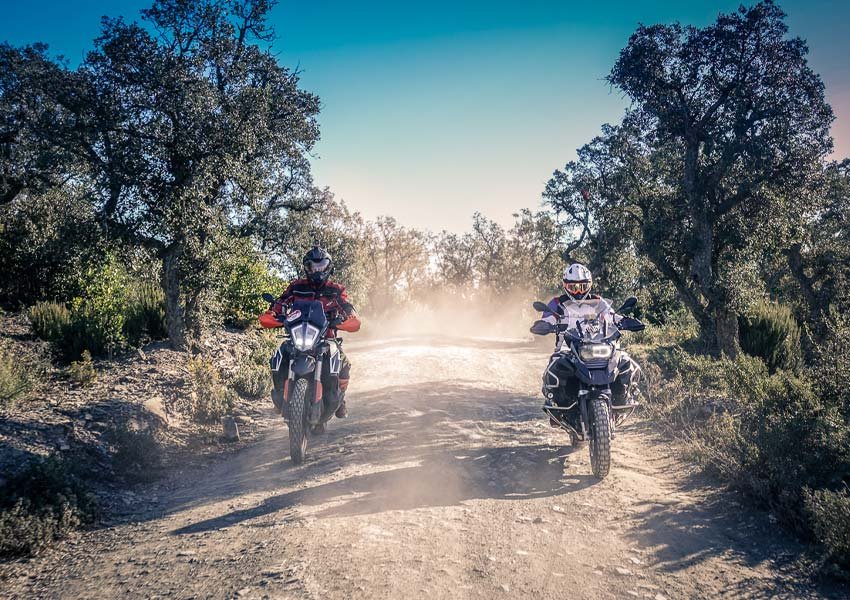 CURSOS INTERMEDIO DE OFF-ROAD
Intermediate off-road courses
Curvas cerradas, superficies complicadas, arena, barro, vados, problemas mas complicados, obstaculos, inversiones, trazadas.. todo puede pasar en una aventura, que sea un dia entre amigos o durante el viaje de la vida. El curso es dedicado a las personas que ya tienen una experiencia basica de offroad y quieren subir el nivel para estar mas seguro y mejorar sus habilidades.
Cornering, tough surfaces, sand, mud, water crossing, tricky problems, obstacles, u-turns, tracing… everything can happen while in an adventure, that is a day with friends or your life trip. The course is dedicated to those riders which already own a basic but solid offroad experience and want to level up to be more safe and improve their skills.
CURSOS DE NAVEGACION GPS
Si quieres aprender a dominar la tecnologia que a dia de hoy tenemos a disposición para mejorar tus experiencias en tus aventuras montando, econtrando, editando, gestionando y archivando trazas gps.. cuanto aprender a cargarlas en tu dispositivo y seguirlas con seguridad en moto y sin pararte cada dos por tres.. el curso de navegacion gps es lo que necesitas!
If you want to learn how to master the technology we have nowadays to improve your experiences in your next adventures creating, finding, editing, managing and archiving gps tracks.. but also loading them on your device and followin the track safely with your motorcycle without having to stop every now and then.. this gps navigation course is what you need!
SERVICIO FOTO PERSONALIZADOS
Personalized photo shootings
"La fotografía saca un instante fuera del tiempo. alterando la vida y manteniéndola así".
Que mejor recuerdo hay de unas fotografías mientras estás sonriendo encantado de la vida disfrutando de tu pasión? La respuesta la tendrás una vez tengas las fotos delante de ti. Hablaremos antes de que estilo de fotos quieres con tu moto y donde. Juntos encontraremos la solución ideal.
"Photography takes an instant out of time, altering life by holding it still".
What's better memory than some photos while smiling at life enjoying your passion? You'll get the answer once in front of your photos. We will have a talk before about the style you prefer with your bike and about the locations. Together we'll find the ideal solution.
¡SUSCRÍBASE AHORA! O SOLICITA MÁS INFORMACIÓN